A MESSAGE FROM
DEPUTY SUPERVISOR GRUCHACZ
ENGLISH • ESPAÑOL • POLSKIE • РУССКИЙ • SLOVENSKÝ • УКРАЇНСЬКИЙ
Brothers and Sisters of Local 78:
I hope you and your families are all well, staying safe, and following the necessary guidelines to protect yourself and your family.
To say we are living in a crazy, uncertain time is an understatement. We have all experienced great challenges in our lives—the days following 9-11 often come to mind. But today we are facing challenges different than anything we have faced before. The coronavirus pandemic has hit us hard in the country and especially hard in the New York/New Jersey region. Think about it:
In four short months we have gone from zero deaths in the U.S. to over 50,000, and the numbers increase every day.
Our region has been the epicenter of this disease and has seen the most cases and deaths in the country.
New York and New Jersey, alone, have seen more cases than any other country in the world.
These numbers can be overwhelming to comprehend. But they are real and there is much we need to do to help stop the spread. The more we do now, the sooner we will get back to our normal lives and work.
As you know, as of today, much of our work has stopped. Our work is dangerous under normal circumstances, but given today's crisis, it is impossible. For sure, some limited work continues. Emergency work is being handled. But it is nowhere near enough for all of us.
There are certain things your union can do to help you during these tough times.
First and maybe most important we can be a source of true, safe information. During these times rumors are often taken for fact and travel at a record speed. I urge you not to believe everything you hear and read, especially on social media.
If you have any questions or concerns, please contact the union. We will always be there to provide accurate, factual information. Rumors and gossip can only add to the problems and confusion.
Our trust funds, health and safety, LECET are all working to provide help and support. If you are laid off, there is help available—beyond the standard New York State unemployment insurance.
Hopefully in the next few weeks, we will begin to see an opening up of our economy. That will mean that some of our jobs will open up. But one thing will not change, you have my solemn pledge that our members' health and safety will always be the top priority of this union.
Until then I urge you to stay safe and keep in touch. As always, the officers and staff of Local 78 are here for you.
Thank you and God bless you.
Pawel Gruchacz
Deputy Supervisor
ENGLISH • ESPAÑOL • POLSKIE • РУССКИЙ • SLOVENSKÝ • УКРАЇНСЬКИЙ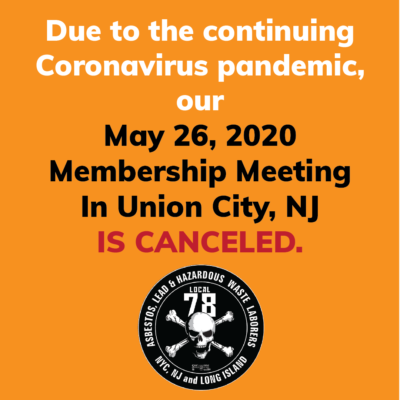 A MESSAGE FROM THE
MASON TENDERS' TRAINING FUND
Mason Tenders' Training Fund
Live Instructor Led Online Training Courses
As it would be less than responsible under the current conditions to conduct classes in the conventional manner at the school in Long Island City, your Training Fund has found a way to provide you with live Instructor led online training in many of the courses that you and many other members want and need.  And you can do it from home through a method of distance learning.
Through the Zoom platform, members can enter a virtual classroom with a live video view of their Instructor and other class participants, interact with them, ask questions, and more.  In effect, you are in the classroom. And, you can use your home computer, iPad or other tablet, or even your cellphone! All of these devices work with Zoom.
All class registration will be done via email
NO TELEPHONE REGISTRATIONS
Do not call the school to enroll
To register:
If you are already registered on eLocal, skip directly to Step 5.  If not:

On the Local 78 website at:

https://www.local78.org/

click on the "

E-LOCAL

" tab on the right side of the banner at the top of the homepage

On the Members Portal page you will see "

PAY DUES. INTERACT. LEARN.

"  Just below, you will see an orange tab that says "

REGISTER

".  Click on that tab

On the next page, fill in your information to register for

eLocal.

Once you have registered, your email address will automatically be entered into our database. 

From the email address registered with eLocal, send an email Including your:

Name

Union Book Number 

Class you want to register for

Language of the class

Date and time of class
Send the email to: e-register@mttf.org
FIND THE ONLINE CLASS SCHEDULE HERE
If there is room in the class you chose, you will be sent an email inviting you to a Zoom meeting describing the course and time.  You must then register in Zoom.
Registrations for 8:00 am classes will close at 4:30 pm on the Business Day immediately preceding the day of the class.  Registration for classes at 8:00 am on Monday will close at 4:30 pm on the preceding Friday.
A MESSAGE FROM THE
MASON TENDERS' DISTRICT COUNCIL

TRUST FUNDS
IMPORTANT MESSAGE REGARDING NEW HARDSHIP DISTRIBUTION OPTION DUE TO COVID-19
The Board of Trustees has adopted a new Annuity Fund hardship withdrawal option to assist participants during this difficult time while they face unforeseen financial consequences due to the COVID-19 pandemic. Under this option, an active (non-retired) participant may apply for a one-time withdrawal of $10,000 from their account (or their entire account balance, if the balance is less than $10,000). Eligible participants may submit an application to the Fund Office at any time from now until June 10, 2020.
Applications may be submitted by mail to the Fund Office at Mason Tenders' District Council Trust Funds, 520 Eighth Avenue, Suite 600, New York, NY 10018-4196. Participants will be required to complete a certification along with the application. (Here is a link to the application and certification, or you may send an email to pensionannuity@mtdctrustfunds.org to request that the Fund Office send you the application and certification.) As with all Fund withdrawals, spousal consent will be required if a married participant's account balance is or at any time was more than $5,000.
This one-time withdrawal will not count toward the Fund's current limit of one non-educational Hardship Withdrawal per calendar year. Applications received by the Fund Office by April 15th will be processed and paid by early May; applications received between April 16th and May 10th will be processed and paid by early June; and applications received between May 11th and June 10th will be processed and paid by early July. (The Fund Office is doing its best to process all benefit applications in a timely manner during this very difficult time so please be patient if there are delays.)
Note that some of these withdrawals may qualify for certain tax relief under the new federal CARES Act — waiver of the 10% early distribution tax penalty and payment of income taxes on the distribution over a three-year period. Participants should consult their tax advisors for advice regarding the tax consequences of any withdrawal. The Fund does not (and cannot) give tax advice.
As per the usual Fund rules in accordance with federal law, participants (and their spouse, if married) must have their signature notarized in order for their application to be processed. We recognize that some participants may be unable to go to a notary at this time but a number of states (including New York) offer virtual or remote notarization to assist individuals during this time. (This link may be helpful in that regard: www.nationalnotary.org/notary-bulletin/blog/2018/06/remote-notarization-what-you-need-to-know.) The availability of virtual notarization should be of great assistance to members who need it.