Brothers and Sisters:
On September 17, we received the final decision from the LIUNA Special Hearings Panel regarding the Election Protest at Local 78. The decision was reviewed and approved by the General President in accordance with the International Union Constitution, Article VIII, §2 (a-vii).
The entire decision can be read by CLICKING HERE or by clicking on the thumbnail below.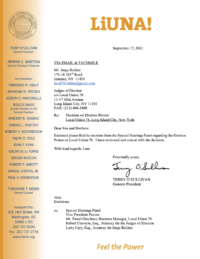 A brief summary of the decision follows:
"Following a July 27, 2021 notice, a hearing on the Election Dispute filed by Jorge Roldan was held by Zoom videoconference on August 23, 2021. LIUNA Vice Presidents Terrence M. Healy and Rocco Davis served on the Special Hearings Panel. LIUNA Associate General Counsel Lisa Pau advised the Panel.
"For the reasons stated in the letter linked above, the Panel finds that the objections claimed by Brother Roldan and his legal counsel, Mr. Larry Cary, are without merit. Having carefully considered the testimony and evidence presented, the Panel concludes the results of the election at Local Union 78 should stand."