Due to the recent spike in COVID-19 cases in NYC we are making the following changes to our office hours in an effort to keep everyone safe, while still conducting our regular union business.
Beginning Monday, November 16, 2020, the Local 78 offices will b
e open for in-person business Monday-Wednesday-Friday, from 8 AM to 5 PM BY APPOINTMENT ONLY. Call 212-227-4803 to schedule an appointment.
⚠️ WE WILL TURN AWAY UNSCHEDULED WALK-INS.
⚠️ WE ARE NOT ACCEPTING IN-PERSON PAYMENTS.
Members can continue to do business with the local by phone five days a week. Examples of by-phone business include:
• Requesting a Letter of Good Standing;
• Requesting/Making a Change of Address;
• Making a dues payment; or
• Requesting E-Local access.
Examples of BY APPOINTMENT in-person business include:
• Picking up Good Standing letters or other paperwork;
• Filing Shop Steward Reports; or
• Picking up contractor checks.
If you have questions please call the office first at 212-227-4803.
Thank you for your continued understanding and cooperation during this difficult time.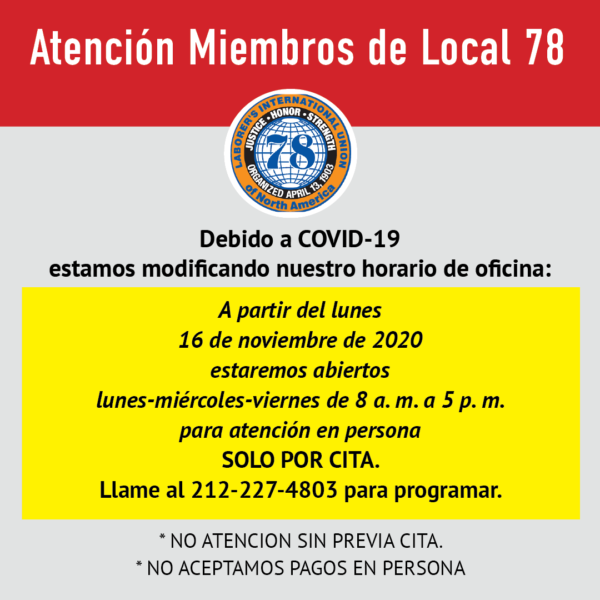 Debido al reciente aumento en los casos de COVID-19 en la ciudad de Nueva York, estamos haciendo los siguientes cambios en nuestro horario de oficina en un esfuerzo por mantener a todos a salvo, mientras seguimos realizando nuestras actividades sindicales habituales.
A partir del lunes 16 de noviembre de 2020, las oficinas de Local 78 estarán abiertas Lunes, Miércoles y Viernes, de 8 AM a 5 PM SOLAMENTE CON CITA. Llame al 212-227-4803 para programar una cita.
⚠️ NO SE ATENDERA SIN CITA PREVIA.
⚠️ NO ACEPTAMOS PAGOS EN PERSONA.
Los miembros serán atendidos por teléfono los cinco días a la semana. Ejemplos de TRANSACCIONES POR TELÉFONO incluyen:
• Solicitar una carta de Good standing;
• Solicitar / hacer un cambio de dirección;
• Realizar un pago de cuotas; o
• Solicitar acceso a E-Local.
Ejemplos de TRANSACCIONES EN PERSONA CON CITA incluyen:
• Recoger cartas de Good Standing u otro papeleo;
• Entrega de reportes de Shop Steward; o
• Retirar cheques de contratistas.
Si tiene preguntas, llame primero a la oficina al 212-227-4803.
Gracias por su continua comprensión y cooperación durante este momento tan difícil.
🚨
UWAGA CZŁONKOWIE LOKALU:
W związku z niedawnym wzrostem liczby przypadków
#COVID19
w Nowym Jorku wprowadzamy następujące zmiany w naszych godzinach pracy, aby zapewnić wszystkim bezpieczeństwo, jednocześnie prowadząc naszą zwykłą działalność związkową.
Począwszy od poniedziałku, 16 listopada 2020 r., biuro Lokalu 78 będzie otwarte dla wizyt osobistych w poniedziałki , środy i piątki w godzinach od 8:00 do 17:00 WYŁĄCZNIE PO WCZESNIEJSZYM UMOWIENIU. Zadzwoń pod numer 212-227-4803, aby umówić się na spotkanie.
⚠️ NIE PRZYJMUJEMY NIEZAPLANOWANYCH WIZYT.
⚠️ NIE AKCEPTUJEMY PŁATNOŚCI OSOBISTYCH.
Członkowie mogą nadal prowadzic swoje interesy przez telefon przez pięć dni w tygodniu. Przykłady BIZNESU PRZEZ TELEFON:
• Żądanie listu o dobrej reputacji (Good Standing);
• Żądanie dostępu do E-Local.
Przykłady WIZYT OSOBISTYCH obejmują:
• Odbieranie  listów o dobrej reputacji (Good Standing) lub innych dokumentów;
• Doreczanie raportow Shop Stewarda;
Jeśli masz pytania,zadzwoń do biura pod numer 212-227-4803.
Dziękujęmy za zrozumienie i współpracę w tym trudnym czasie.
В связи с недавним всплеском случаев # COVID19 в Нью-Йорке мы вносим следующие изменения в часы работы нашего офиса, чтобы обеспечить безопасность всех, продолжая при этом вести нашу обычную профсоюзную деятельность.
Начиная с понедельника, 16 ноября 2020 года, офис Локаля 78 будет открыт для  посещения в понедельник, среду и пятницу с 8:00 до 17:00 ТОЛЬКО ПО ЗАПИСИ. Позвоните по телефону 212-227-4803, чтобы записаться на прием.
⚠️ НЕ ПРИНИМАЕМ ЛЮДЕЙ БЕЗ ЗАПИСИ!
⚠️ НЕ ПРИНИМАЕМ ПЛАТЕЖИ В ОФИСЕ, ТОЛЬКО ПО ТЕЛНФОНУ!
Члены профсоюза могут продолжать работать с Локалем 78 по телефону пять дней в неделю. Примеры ПОМОЩИ ПО ТЕЛНФОНУ:
• Запрос рекомендательного письма члена профсоюза;
• Запрос / изменение адреса;
• Запрос доступа к E-Local.
Примеры ПОМОЩИ В ОФИСЕ включают:
• Получение рекомендательных писем или других документов;
• Подача отчетов шоп стьюардов; или
Если у вас есть вопросы, сначала позвоните в офис по телефону 212-227-4803.
Спасибо за ваше понимание и сотрудничество в это трудное время.