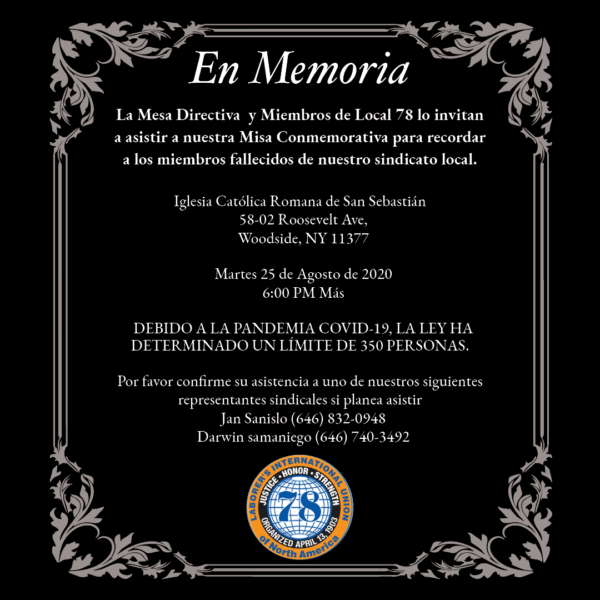 The Officers and Members of Local 78 invite you to attend our Memorial Mass to remember the deceased members of our Local Union
Where: Saint Sebastian Roman Catholic Church
58-02 Roosevelt Ave, Woodside, NY 11377
When: Tuesday, August 25, 2020 at 6:00 PM
DUE TO COVID-19 PANDEMIC, A LIMIT OF 350 PEOPLE HAS BEEN DETERMINED BY LAW.
Please RSVP to one of our following Union Representatives if you are planning on attending:
Jan Sanislo (646) 832-0948
Darwin samaniego (646) 740-3492
***
La Mesa Directiva y Miembros de Local 78 lo invitan a asistir a nuestra Misa Conmemorativa para recordar a los miembros fallecidos de nuestro sindicato local.
Dónde: Iglesia Católica Romana de San Sebastián
58-02 Roosevelt Ave, Woodside, NY 11377
Cuándo: martes 25 de agosto de 2020 a 6:00 PM
DEBIDO A LA PANDEMIA COVID-19, LA LEY HA DETERMINADO UN LÍMITE DE 350 PERSONAS.
Por favor confirme su asistencia a uno de nuestros siguientes representantes sindicales si planea asistir:
Jan Sanislo (646) 832-0948
Darwin samaniego (646) 740-3492